Training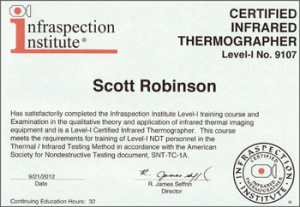 I am fully trained and certified with a Certificate 1 in Thermography from the Infraspection Institute using the very latest advanced equipment.
The Infraspection Institute Certification began in 1983 and is recognized worldwide as a symbol of excellence with nearly 10,000 graduates worldwide.
Many inspection firms own thermal imaging cameras but do not hold a qualification or are even trained in using them. Without this training and experience the equipment is virtually ineffective.
How It Works
Thermal Imagers detect thermal patterns across a surface and convert infrared to visible light images. It is not X-ray vision.
Using Thermal Imagery in Building diagnostics and for pest detection can be a complex scenario.
It's not just a matter of point and shoot the camera, conditions need to be right.
The weather/temperature can adversely affect results along with the surface material and obstruction of clear sight.
Using Thermal Imaging for Building and Pest Diagnostics
My experience and training means I can use the thermography camera to its optimal performance which may mean I need to fabricate the right environment using heaters or air conditioners so I get the accurate results.
Using Thermal imagery is one important tool in the detection of building faults and pests, but it cannot be used alone as it does have its limitations. Experience and other methods of investigation are needed to confirm findings.
Thermal Imaging / Infrared Inspection Services include:
Moisture Damage / Moisture Intrusion Examinations
Pest Infestation Nests
Fire / Water Damage Assessment of Materials
Air Leaks Around Doors, Windows, Etc
Hidden Plumbing and Roof Leakage
Flat / Low Slope Roof Inspection
Commercial Building Inspections
Heat Loss and Energy Efficiency
Overloaded Electrical Circuits
Commercial Building Surveys
Building Envelope Scanning
Radiant Floor Heat Surveys

HVAC

 Component Scans component scans
Missing Insulation
Electrical Hazards