Hidden Problems
Property inspections help you make that informed decision on what is most likely the most important decision in your life.
Below is just a snap shot of some of the hidden problems that I find on my property inspections.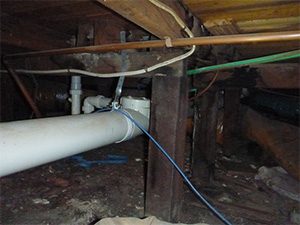 This section is where the floor has dropped and is supporting the main cantilevered roof beams. You can see it is over the original wooden stump. This is not correct and needs a structural engineer to certify.
Two supports for the flooring have been cut away for the central heating ducts. No lintel installed to support the floor joists.
The floor joist support has been cut away completely for a central heating duct register.
Mould prevalent throughout the subfloor ground of this property due to poor drainage and ventilation. Not only affects the foundations but it is a serious health issue.
Water pooling at front subfloor foundations of main house will cause problems in foundations.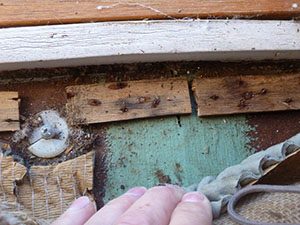 MDF skirting boards and particle board flooring swollen from water damage due to incorrect balcony structure installation.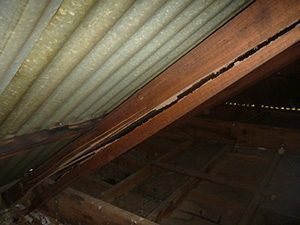 Timber pest structural damage to roof frame.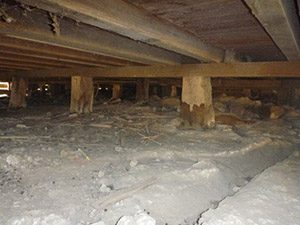 Timber stumps have decayed significantly at the base. There is evidence of replacement of damaged subfloor timbers by the damage caused by timber pest.
Rotted bearer from leaking shower recess. Needs complete replacement.
Brick wall on front of house has bowed outward by an approx 40mm. This is evident from the subfloor (see other photos) and other cracks in the brickwork. Severe structural issue
Old concrete tiles pourus. Tiles show moisture leaching through. Sealing or replacement is needed.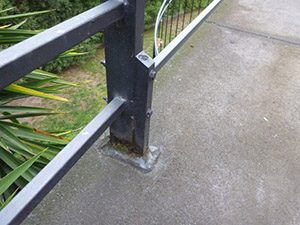 This existing handrail post has corroded completely through and has been supported by a short metal strop. There are many hand rail posts in similar condition that are badly corroded. These are safety issues.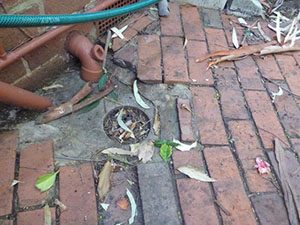 Storm water has been directed to the sewer. This is illegal and needs to be rectified.
Approx 20mm wall movement on rear west corner. Structural movement away from window, quad beading and eaves sheet joiner above can be seen.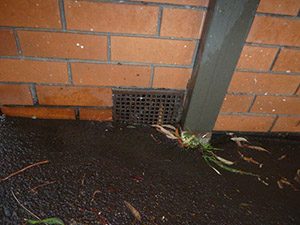 The surface level of the yard is above the subfloor ventilation. Any excess water will discharge under the house. This creates many problems and needs to be rectified.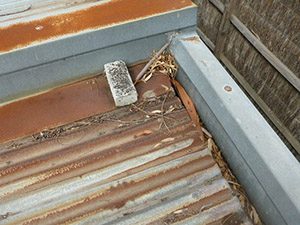 Rusting corrugated sheets on garage near box gutter. This corner is also leaking in the garage.